FORMULITE LUPIN SOUPS
The Formulite team has expanded its product range to now include delicious and satisfying Lupin Soups - to complement the Formulite Meal Replacement Shake range.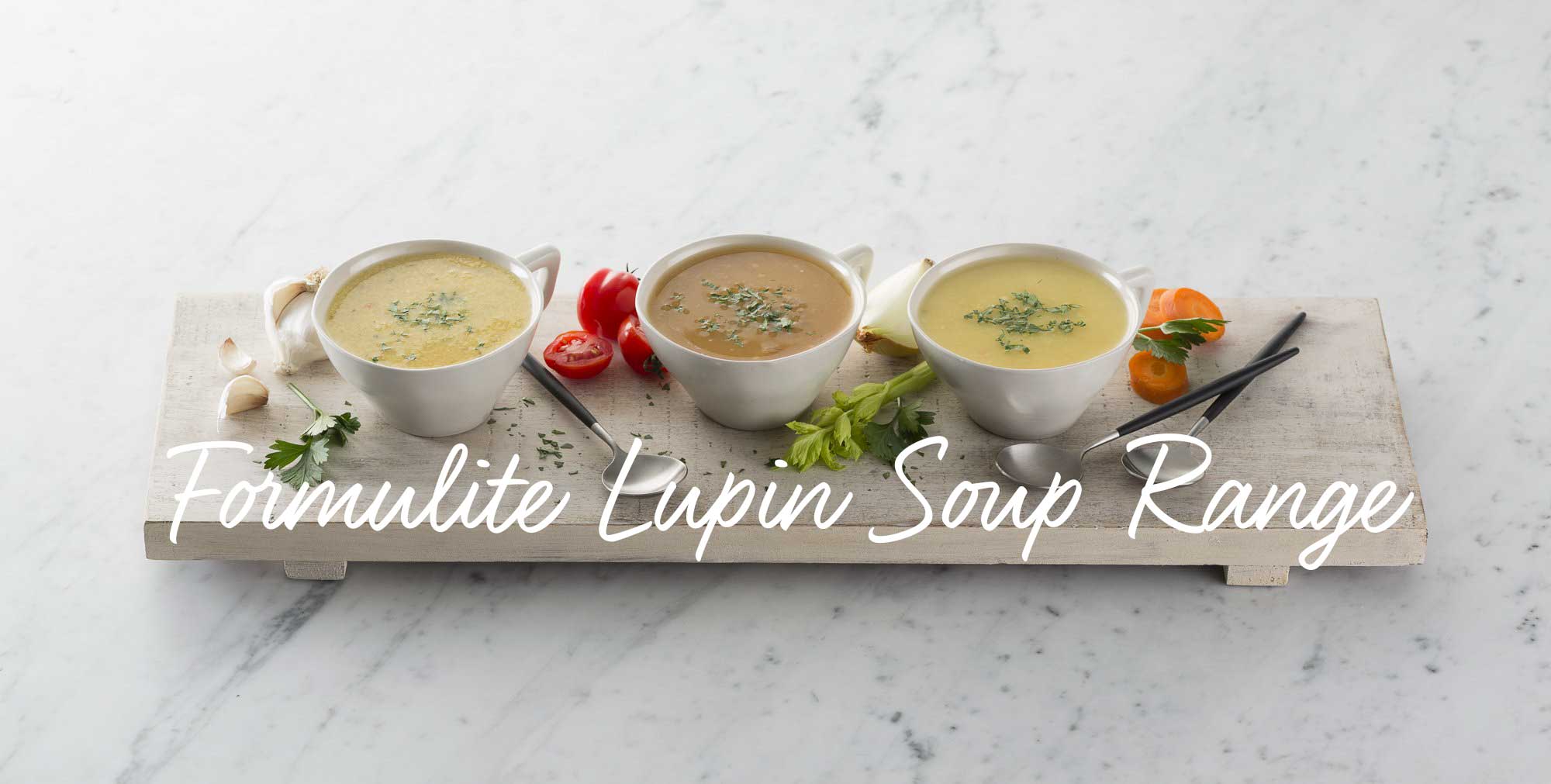 Available in three delicious flavours
Vegetable, Beef & Chicken and packed with the many dietary benefits of lupins – Formulite Lupin Soups are not only great for weight management but are also an incredible source of nutrition.
Formulite Lupin Soups contain lupin flakes, hydrolysed collagen and 23 essential vitamins & minerals - providing a satisfying soup that is very high in protein, prebiotics, fibre and antioxidants, yet low in carbs and fats and is also gluten and dairy free!
Best of all, Lupin and Hydrolysed Collagen Protein are renowned for increasing satiety (a feeling of fullness thereby reducing\cravings); helping to lower your food intake through the day.
With such an amazing nutrition panel the Formulite soups can be used as a part of any meal plan, even a low carb ketogenic diet. The high prebiotic fibre and hydrolysed collagen present in Formulite soups are great for gut health.
Lupin Soup Nutrition - The Nutrition Panel below relates to Beef Flavour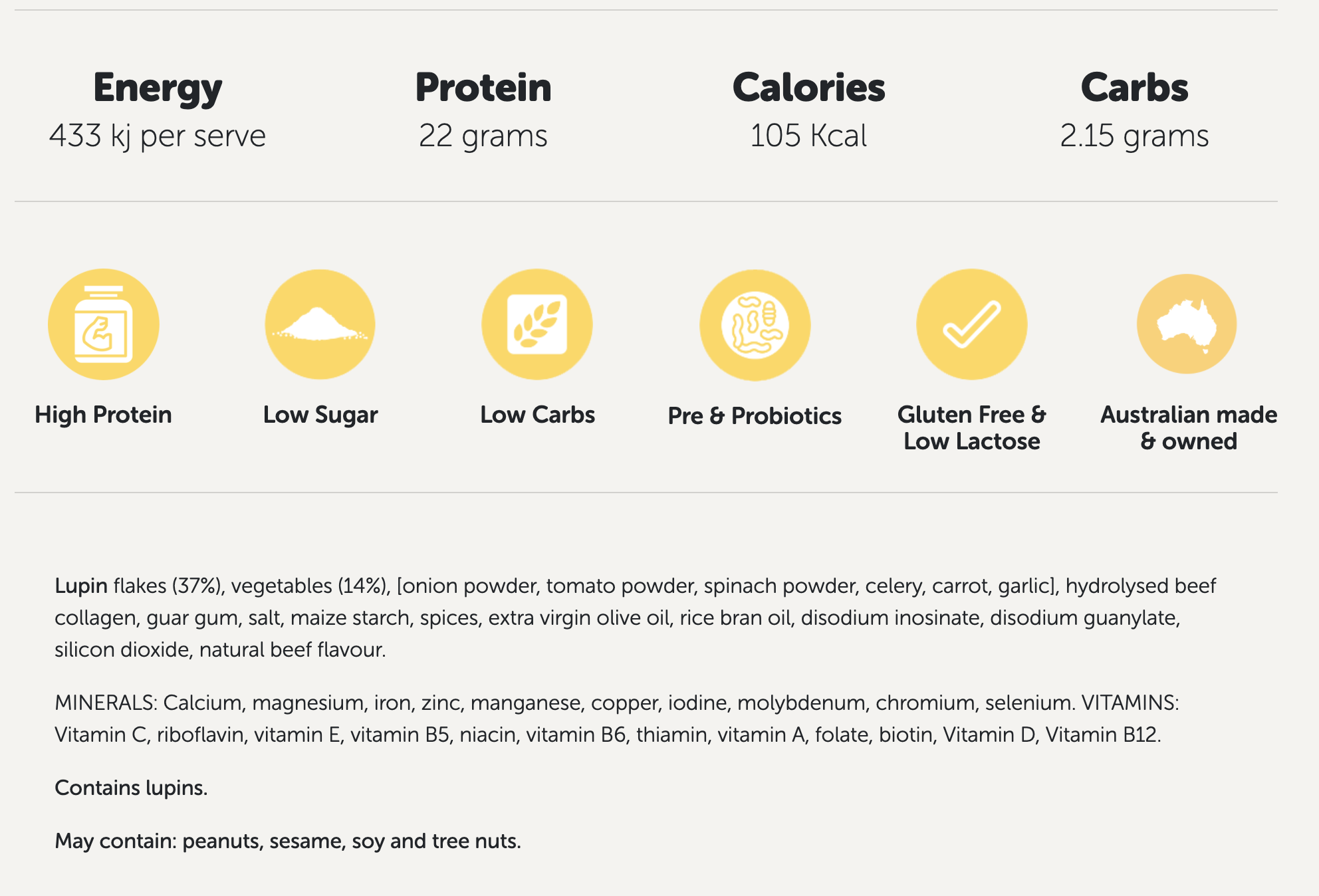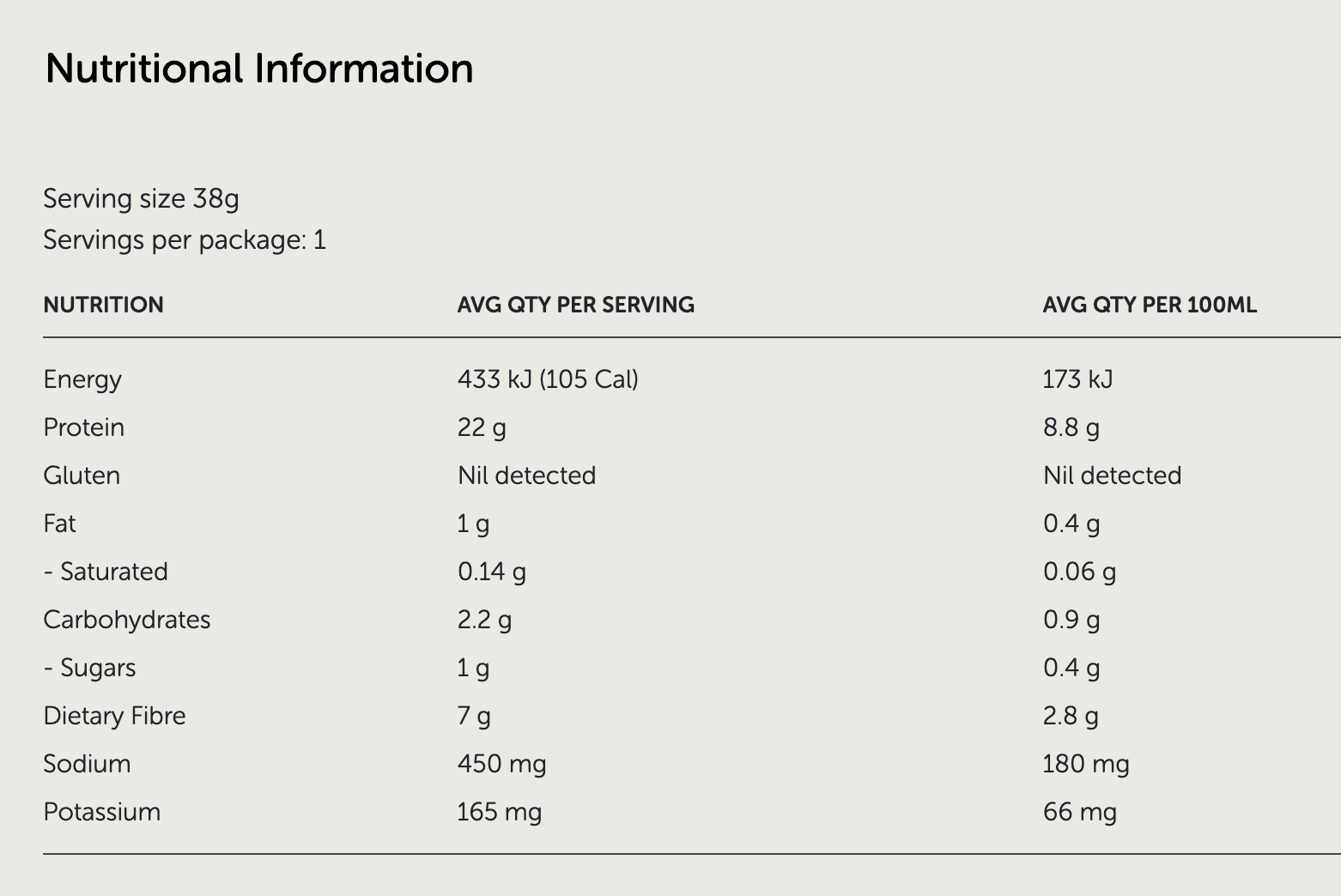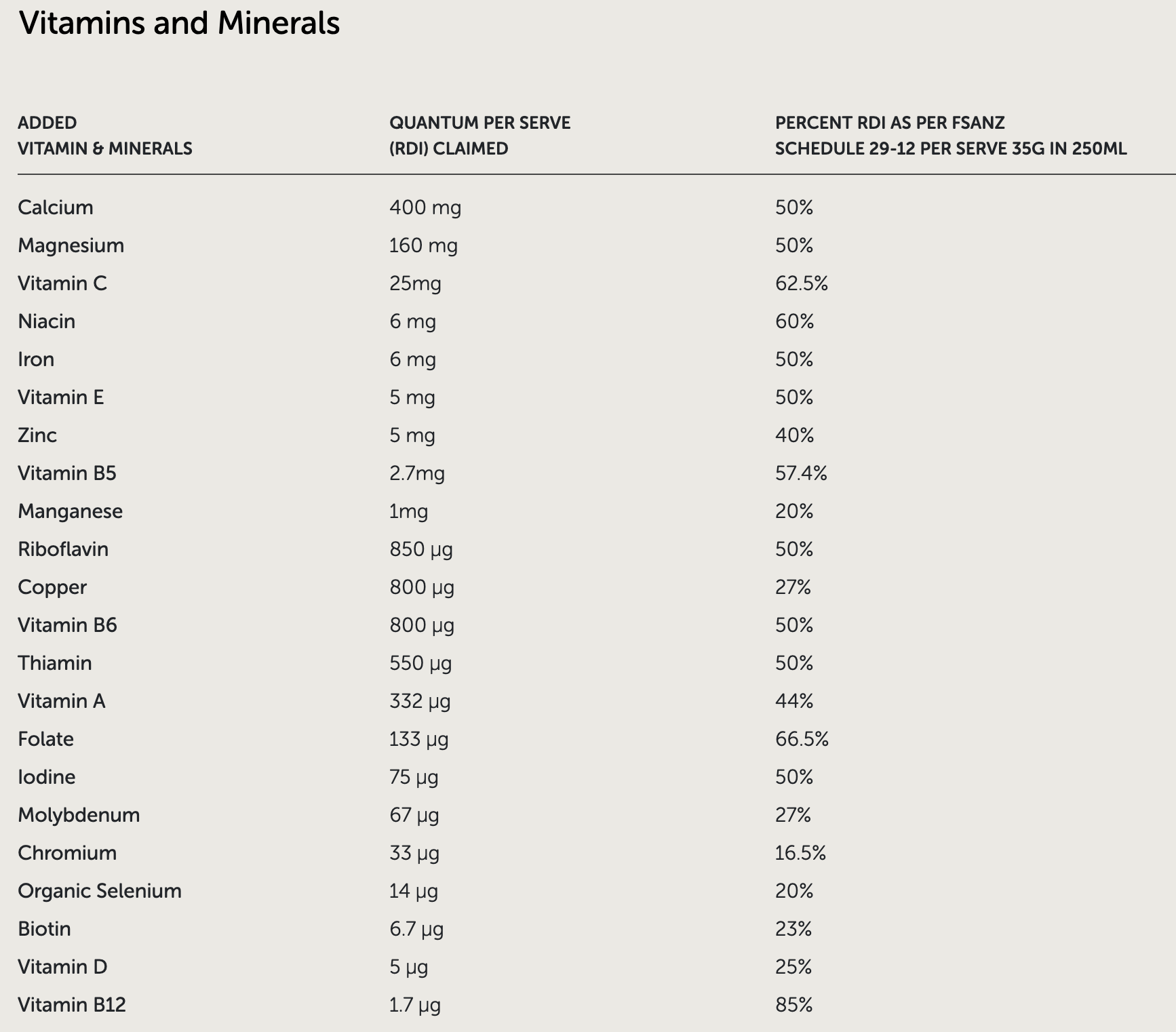 How to incorporate Formulite Lupin Soups into your diet
Formulite Lupin Soup sachets taken on their own are a nutritious snack, perfect to bridge the gap between main meals! The soups are very low calorie, so if full meal replacement is what you are looking for we advise adding sweet potato or 2 cups of steamed vegetables to reach the recommended calorie intake. Alternately we suggest starting with 1 sachet of soup at a time and when your body gets used to the extra fibre you can add another sachet to make a full meal replacement.
Lupin Facts
Lupin is an ancient legume which hails from the same family as chickpeas and lentils. Lupins have been grown in Australia since the 1960s as a natural fertiliser introducing nitrogen back into the soil, thus reducing the need for chemical fertilisers. The Lupin flakes within our soups are non GM and 100% sustainably grown in Western Australia. Only recently have we discovered just how good they are for our health.
Lupins are one of the world's richest natural sources of protein (40%) and dietary fibre (37%) and with only 4% carbohydrates this Aussie-grown power food are a perfect addition to our soups. While most high protein foods (from animals) can be full of fats, and high fibre foods come loaded with carbs, Lupin Flakes are extra special because they have higher nutritional benefits of other legumes and other healthy grain: plus are extremely low in energy.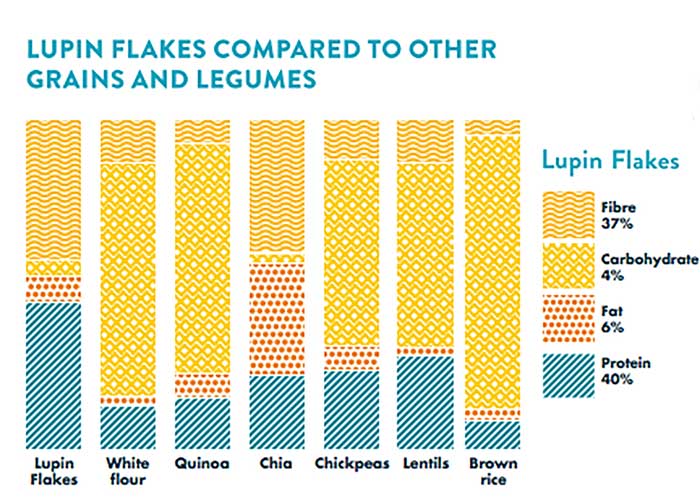 Health Benefits of Lupins
The Formulite team's focus is to develop products that not only aid in weight management, but also look after bodies on the inside. Our soups are blended with lupin, a 'superfood' that has been linked to the following health benefits;
Improvements in gut health - Prebiotic fibre from lupins may help reduce the risk of colon cancer, create better insulin response and improve gut microbiome.*
Higher Satiety - The combination of high protein and high fibre can improve satiety, keeping you feeling fuller for longer .*
Blood pressure reduction- Lupin fibre may also help reduce the impact of blood pressure*
Improvement in glucose metabolism (diabetes) - As a low carb food, lupin may aid in managing blood sugar*
Lupin as an Allergen
Lupin has the potential to be an allergen in a small percentage of the population. People who are allergic to protein containing foods such as peanuts and soybeans may also react to lupins.
For more information on the allergen status of lupin please review this document.
Health Benefits of Hydrolysed Collagen
Collagen is protein made up of long chain of amino acids and the most important structural protein in the human body. It is one of the major building blocks of bones, skin, muscles, tendons and ligaments. As we age the amount of collagen our body produces decreases. A visible sign of this is in our skin, which becomes less firm.
Hydrolysed collagen is essentially collagen that has been broken down into smaller molecules making it more bioavailable. As a result hydrolysed collagen is better absorbed into the bloodstream, thus enhancing digested.
Studies have suggested that hydrolysed collagen;


Appetite suppressant - High protein content may improve satiety, keeping you feeling fuller for longer
Improves gut health - May aid in forming connective tissues that line the gastrointestinal tract which is thought to heal damage done by inflammatory bowel disease
Builds muscle - Hydrolysed collagen contains 2-3 amino acids which aid in the production of creatine
May help decrease arthritic joint pain - Reduces joint swelling and pain in people with osteo and rheumatoid arthritis
May help improve health of skin and hair – by replacing collagen lost in the ageing process