WHY FORMULITE
Benefits and convenience of Formulite
High nutrition
24 added vitamins and minerals
Good source of protein
Low carbs
Low sugar
Good source of fibre
Prebiotics and probiotics
No artificial sweeteners
Tastes delicious
Convenient Shake & Take one-serve bottles. Take anywhere, drink anytime
Gluten free
A Healthier Choice
There is so much goodness in Formulite
Formulite is scientifically-formulated for optimal nutrition with 24 added vitamins & minerals, a good source of protein and fibre, low-carbs, low sugar, and prebiotics and probiotics.
The nutrition panel below is for the Creamy Vanilla flavour.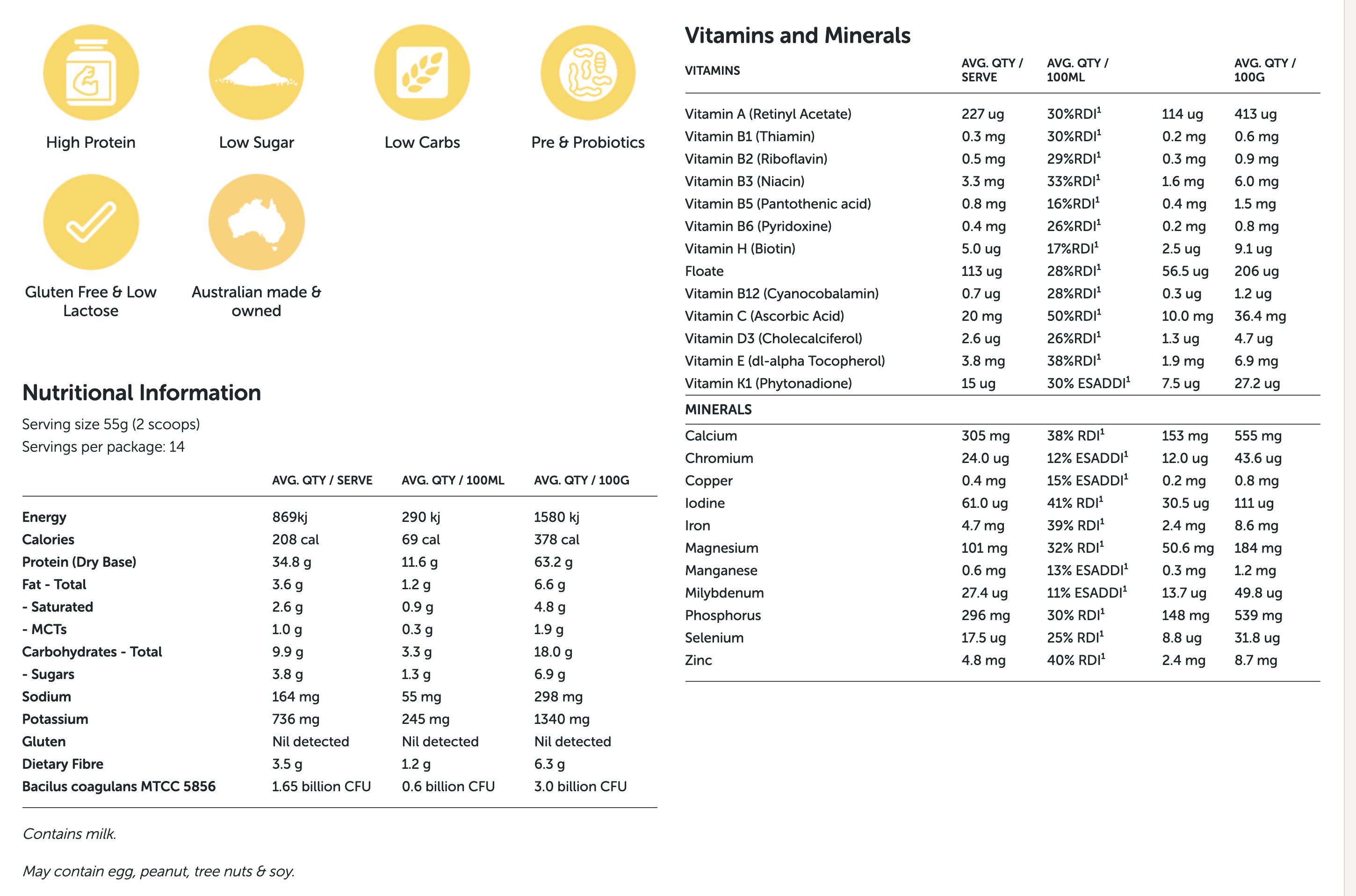 Whey protein concentrate
Large amount of BCAA (branched chain amino acids)
Improves insulin sensitivity
Augments muscle protein synthesis
Boosts production of glutathione (the body's master antioxidant)
Supports fat-burning
Decreases appetite
Improves immunity
Intestinal health
Growth factors igf1, tgf1, tgf2
Grass-fed cows
Helps prevent blood sugar fluctuations
Helpful for type 2 diabetics
Whey protein isolate
Low temperature manufactured isolate, so as not to de-nature the protein
Cross-flow micro-filtered so that it is high in protein content, plus low in lactose and fat
Micro-filtration equals more intact bioactive peptides
Micellar casein
Keeps you feeling full
Derived from cows milk and accounts for approximately 80% of the protein within the milk
Slow release protein source to deliver amino acids to the body for up to 12hrs
Micellar casein differs from other caseins/caseinates as it exists in its natural form and is more readily digested and assimilated by the body
High concentration of leucine (increases protein synthesis, stimulates fatty acid oxidation)
Natural thickening agent helps promote a richer, creamier texture and deliciously smooth taste
Anti-catabolic benefits and not de-natured during processing
NOTE: Micellar Casein is NOT Calcium Caseinate, which is processed very cheaply. Processing with extreme heat renders the caseinate an ultra-thermolised protein, drenched with MSG.
Fibresol
Fibre continues to be one of the most recognised and sought-after ingredients for digestive health.
Increases faecal bulk
A pre-biotic that causes favourable fermentation in the large bowel, and also results in change in bacterial populations
Fermented by good bacteria in large intestine, which produces energy and keeps the acid base balance in the best range for the intestine to work properly. Ferments at a slower pace than soluble fibre, so less likely to experience side-effects, such as gas
Supports the growth of good bacteria
Probiotics (lactobacillus acidophilus, bifidobacterium lactis)
'Good' or helpful bacteria to keep your gut healthy with live organisms that may prevent and treat some illnesses
Promote a healthy digestive tract and immune system
Essential for healthy digestion and nutrient absorption
Improve recovery by increasing body's absorption of antioxidants
Improve digestive efficiency ensuring maximum amount of nutrients are absorbed
Help to digest lactose
Stevia
Sugar substitute that comes from a plant, with zero calories (200 times sweeter than sugar)
Used in South America for more than 1500 years
Blood sugar lower after eating a meal with stevia vs eating a meal with sugar
Lower insulin levels with stevia than sucrose (sugar) or aspartame (artificial sweetener)