Shelf Talker Soup Panel
15/03/2021

Shake Sachet Box – Banana Flavour
27/08/2021
Formulite provides a healthy balance of high-protein, low-carb, low-sugar, as well as a good source of fibre, in one convenient, delicious and nutritious shake.
Scientifically-balanced, each shake provides your body with the optimal mix of protein, fibre, healthy omega fats, and 24 essential vitamins and minerals – delivering maximum nutrition and weight management control.
This shake box provides 7 serves
Caffeine level per serve of Formulite Coffee Flavour is approx. 66mg
Enjoy the great coffee flavour.
Ingredients & Nutrition
COFFEE
Protein Blend (Whey Protein Concentrate (from Milk), Micellar Casein (from Milk), Whey Protein Isolate (from Milk) [Lecithin from Sunflower], Soluble Dietary Fibre (Digestion Resistant Maltodextrin (Fibersol-2®), Inulin, Flavours, Instant Coffee Powder, Medium Chain Triglyceride (MCT Oil) Powder, Minerals (Di-Potassium Phosphate, Tri-Calcium Phosphate, Sodium Molybdate, Magnesium Oxide, Ferrous Gluconate, Zinc Sulphate , Manganese Sulphate, Copper Gluconate, Potassium Iodide, Chromium Chloride, Sodium Selenite), Mineral Salt (Potassium Chloride), Vegetable Gum (Guar Gum, Xanthum Gum), Food Acid (Sodium Citrate), Probiotic (LactoSpore® – Bacilus coagulans MTCC 5856), Vitamins (L-Ascorbic Acid, dl-alpha Tocopheryl Acetate, Niacinamide, Riboflavin, Pyridoxine Hydrochloride, Calcium D-Pantothenate, Thiamin Hydrochloride, Retinyl Acetate, Folic Acid, Vitamin K1, D-Biotin, Cholecalciferol, Cyanocobalamin), Digestive Enzyme (Digezyme® – α-Amylase, Cellulase, Lipase, Lactase, Protease), Sweetener (Stevia)
CONTAINS: MILK AND MAY CONTAIN: EGG, PEANUT, TREE NUTS AND SOY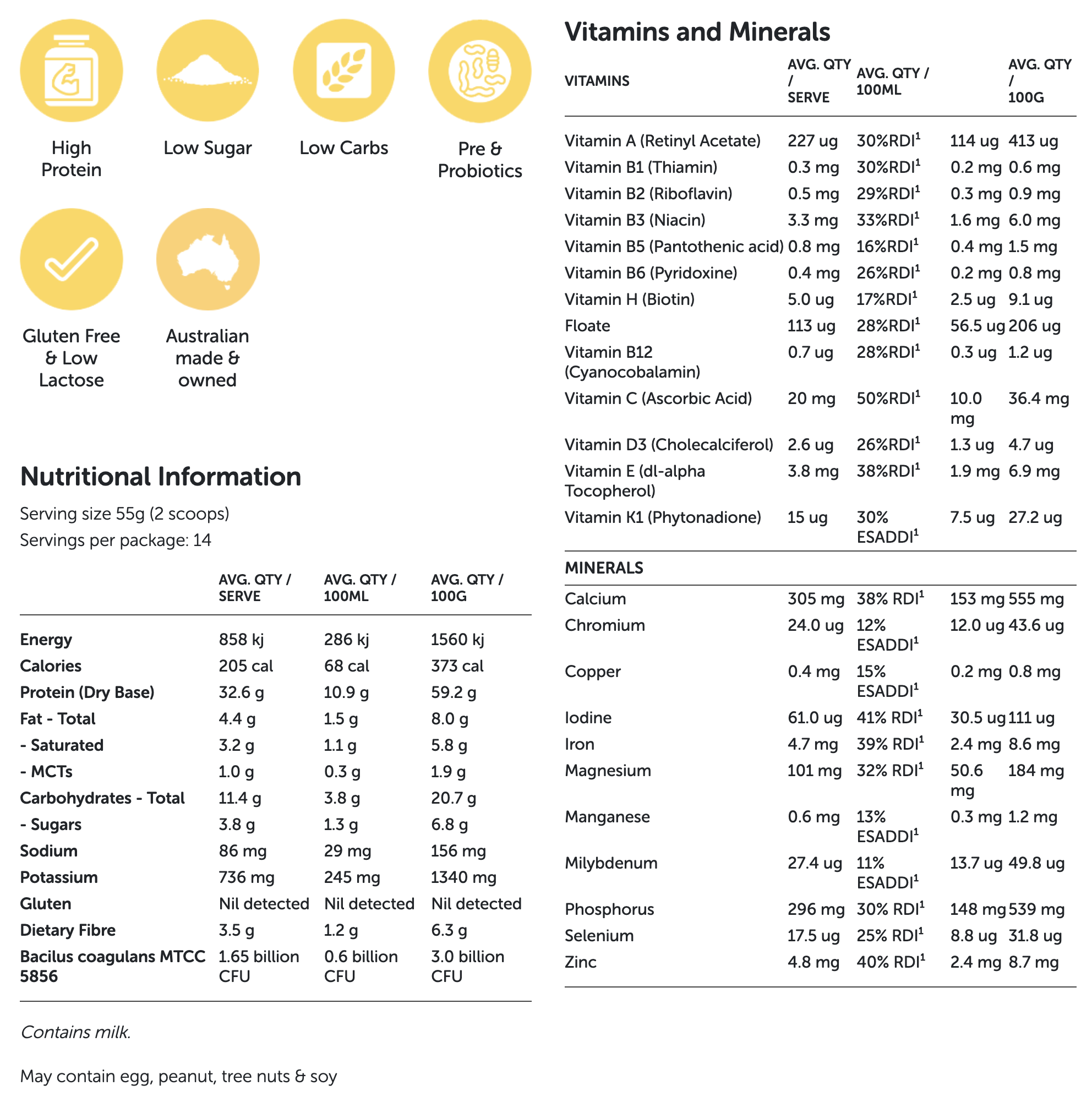 Directions
Mix one sachet (55g) in 200–300ml of water.
Blend, shake or stir for 20–30 sec or until powder is dissolved.
Drink and enjoy the goodness.
Should only be used under medical supervision. Not suitable as sole source of nutrition and should be consumed in conjunction with a nutritious diet. Store in a cool dry place below 30°C. Keep out of direct sunlight. Product must not be used as a total diet replacement.